Welcome to Class Two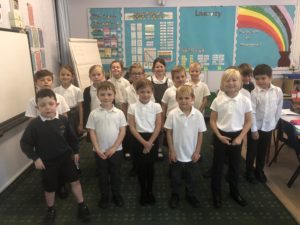 Class teacher: Mrs Mali
Teaching Assistants: Mrs Cant, Mrs Wilson
Class Information
Homework
Children will receive a homework grid.  They are able to take ownership of their learning and choose a topic of their interest.  Homework grids are sent out every half term.  Homework books will be sent home on a Friday and children must hand in homework the following Wednesday. This should be the children's own homework and they should spend roughly 30 minutes on each piece. Children should ensure that homework is completed to the best of their ability.
Reading
Help your child take part in the reading challenge! Please ensure that children have their reading records at school on Monday, Wednesday and Friday, ready to be checked and ticked off.  Reading is an important part of school life and children need to read every day.
Spellings
Spellings will be sent home on a Friday and books need to be handed in on a Wednesday. Children will be tested every Friday and they will have the opportunity to learn their spellings at school.
Mental Arithmetic
Mental Arithmetic Maths books will also be sent home on a Friday and books need to be handed in on a Wednesday. Please ensure children complete only one test per week and no more or less.
Times tables
Every week, children have a chance to play Golden 100 challenge. To help your child improve, they may access the online game "Hit the Button" at home.
PE
Children will have PE lessons every Wednesday and swimming on Friday. Please ensure children have suitable footwear please and the correct PE kit/swim wear.  Please do not forget that all Kit should be labelled.
USEFUL WEBSITES:
Spring Term
Welcome back to an exciting new term. It is going to be a very busy one!
Literacy
In literacy, the children will be writing our own myths and legends, reading various traditional stories to then go on and write their own play script.  Children will also be writing some kenning poetry.  They will also be learning how to write their own non chronological report linked to their Science topic.
Maths
This term, children will focus on developing key skills, such as ordering and comparing numbers, addition and subtraction, problem solving involving multiplication and division, fractions and money.
RE:
Our RE lessons will be discussing the events in the life of Jesus and sharing food as part of worship.  We will also be learning about Easter.
History
The children will be leaning about the Vikings and Anglo Saxon struggle for the kingdom of England. Children will be learning key facts about the most influential Anglo Saxon kings and will be organising information about the Vikings and Anglo Saxon kings onto a timeline. They will also have the opportunity to describe some aspects of everyday Viking life.
Geography
Our Geography lessons will focus on understanding geographical similarities and differences of a European country and a region within North and South America, as well a region of the U. K.
Science
In Science the children will learn about living things and their habitats.  They will focus on sorting living things into groups, identifying vertebrates and the characteristics of living things.