Statutory info
Contact Details:
Stapleford Primary School, Church Lane, Stapleford, Hertfordshire, SG14 3NB
Tel: 01992 583341 Fax: 01992 901811
Email: admin@stapleford.herts.sch.uk
Headteacher: Mr J Shillito
Admission Arrangements:
Admissions Policy 2021-2022 – Revised version – September 2021
Admissions Policy 2022-2023 – Revised version – September 2021
Nursery Admissions Policy 2019
Nursery Admissions Policy 2020
Nursery Admissions Application Form
Supplementary Information Form
Admission Appeals
Parents who have not been allocated a place for their child have the right of appeal to an independent panel and the school uses the LA's central clerking service for the administration of any admission appeals.  The LA will include information about appeals in its post-allocation literature and further details and explanation may be found in the LA's admission literature and website.  Parents wishing to appeal who applied on line should log into their online application and click on the link "Register an Appeal".  For those who did not apply on line, please contact the customer service centre on 0300 123 4043 to request an appeal pack.  In accordance with the school admission appeals code you can download a copy of the appeals timetable that has been set for 2021.
After allocation day on 16 April 2021, you will be able to appeal for the school you applied for, but for which you have been unsuccessful.
Appeals deadline – submit your appeal by 4pm on 21 May 2021.
Appeals will be heard 16 June – 23 July 2021.
Appellants (the person who made the appeal) will be sent notification of their appeal hearing at least 10 school days in advance of the hearing (unless you've been requested to agree shorter timescales).
Appellants will be sent a copy of the school's case 7 working days in advance of the hearing.
Appeals lodged after these dates will be heard within 40 school days of the appeal deadline or 30 school days of being lodged, whichever is the later date.
Reports:
Oftsed Website – Stapleford Primary School
Statutory Inspection of Anglican and Methodist Schools (SIAMS) Report 2017
Key Stage 2 Results:
Due to the COVID-19 pandemic, KS2 SATs did not take place in 2020. The most recent KS2 SATS data can be found below.
Key Stage 2 Results 2019 – Click here for detailed report
School Curriculum Information:
Stapleford Primary School Curriculum – Two Year Rolling Programme
P.E and Sport information:
Sports Premium Funding 2021-22
SEND:
The school SENCO is Mrs Jane Palmen. Her contact email address is senco@stapleford.herts.sch.uk or alternatively please call the school office and leave a message – Tel: 01992583341. Mrs Palmen is on site at school every Tuesday.
Stapleford SEND information Report
How are we helping your child at school
Policies:
Child Protection Policy 2021-22
Pupil Premium:
Pupil Premium Strategy 2021-22
Safeguarding: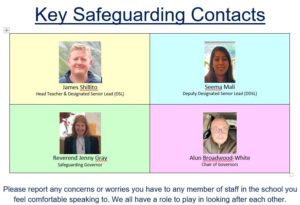 Safeguarding – how do we teach safeguarding?
Child Protection – Safeguarding children – quick reference booklet and contacts
Child Protection Policy 2021-2022
Useful safeguarding links:
https://www.hertfordshire.gov.uk/services/childrens-social-care/child-protection/report-child-protection-concern.aspx
https://www.ceop.police.uk/Safety-Centre/
https://www.saferinternet.org.uk/
eSafety Information:
eSafety and Data Security Policy
https://www.saferinternet.org.uk/
COVID-19 catch up premium
Catch-up premium allocated: £5,520
This is being spent on targeted pupil support working one to one and in small groups through:
extra hours being worked by existing teaching assistants
Data Protection:
The Data Protection Officer (DPO) for the school is Peter Critchley.
DPO contact details: dpo@stapleford.herts.sch.uk
School's Ethos and Values
RE Statement of Entitlement for Church Schools
List of Stapleford Primary School Governors - Term of office and register of interests for the website