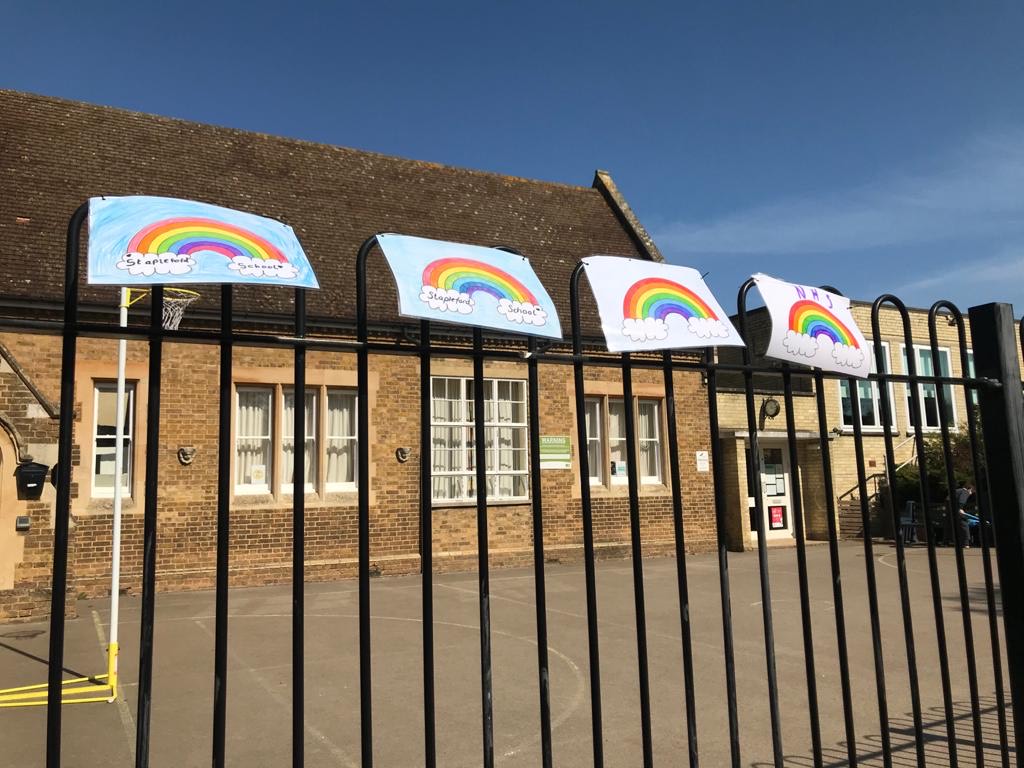 23 Mar

CORONAVIRUS BLOG
CORONAVIRUS BLOG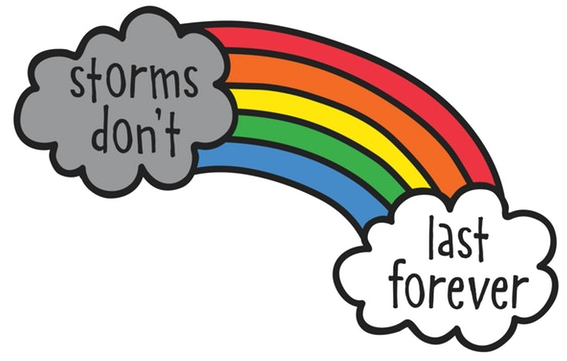 Every day we will aim to post a blog relating to how we are all coping in these extraordinary times. Teachers, teaching assistants, office staff, site managers, cleaners, pupils, parents/carers and governors etc. will all be asked to contribute. Hopefully we can create a way for our community to share their experiences in order to keep us feeling as positive. Storms don't last forever.
DAY EIGHT 02/04/20
Worship at home
The Diocese of St Albans has produced a weekly worship at home resource including creative activities, think pieces and prayers. These materials have been created for use by the entire school community. A new resource will be made available each week during term-time.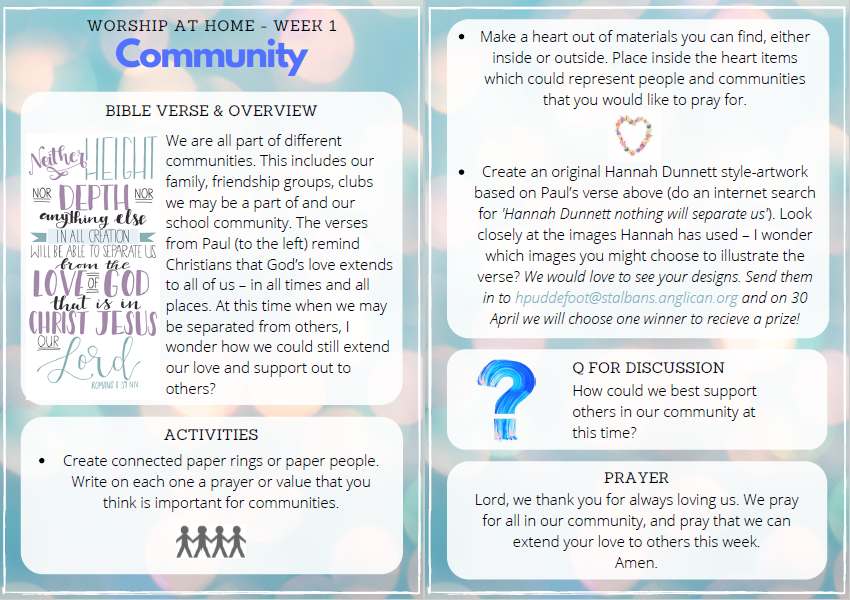 Blog by Edward and Grace (Pupils).
Being in school during lockdown!!!!
It's a bit weird and quite peaceful without anyone around. We have the whole playground to ourselves. Not forgetting having all of the adults to ourselves too.
Here are some of the things we've been getting up to:
PE with Joe Wicks and the teachers, it's been fun watching them struggle (especially Mrs Elmes). 
Using our learning packs to complete some Maths from our textbooks. 
Reading comprehensions as well as Spelling frame and also Purple Mash. 
Making papier mache Easter eggs with Mrs Phillips.  
We also had our lunch on the field.
We have both been playing the piano just before home time.
Mrs Wilson printed us some paper masks and we did some finger painting which was fun too.
We also created the rainbow pictures which are now on the school gate.
During lunch and break we have had lots of fun racing the cars from Early Years on the playground.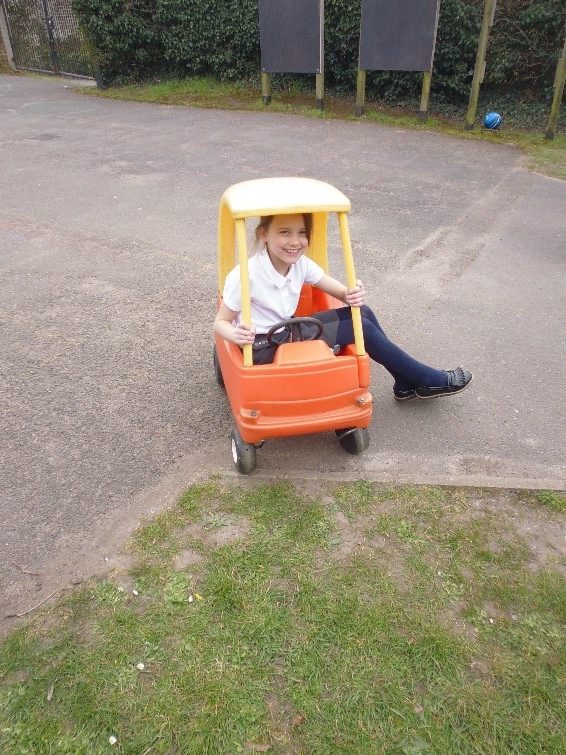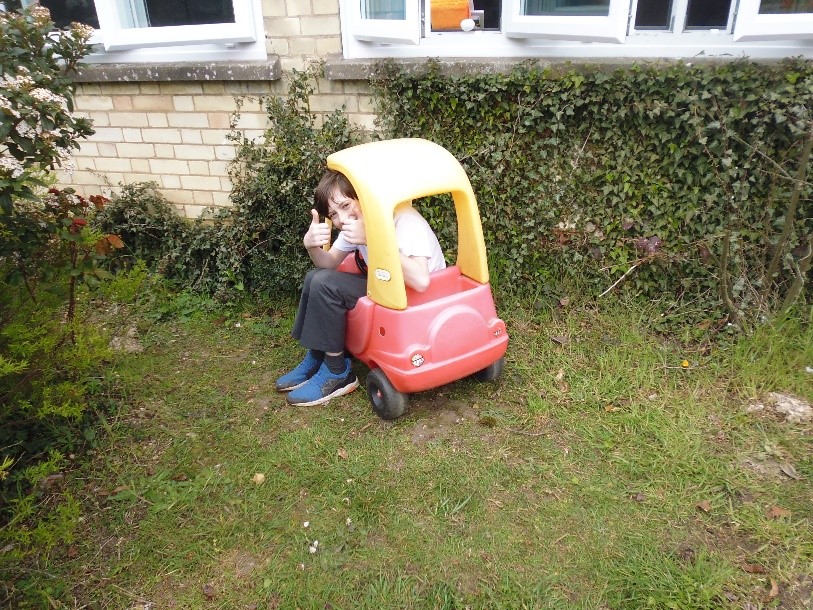 We are missing all of you and can't wait to see you.
Stay safe
From Edward and Grace.
DAY SEVEN 01/04/20
Blog from Imogen (Year 3 Pupil)
Hi Imi from Class 2

Hello. Well I've been trying to keep busy. My mum gets me up at 9:00-9:30am and I do my work. Mum has gone a bit mad on work posters on the wall.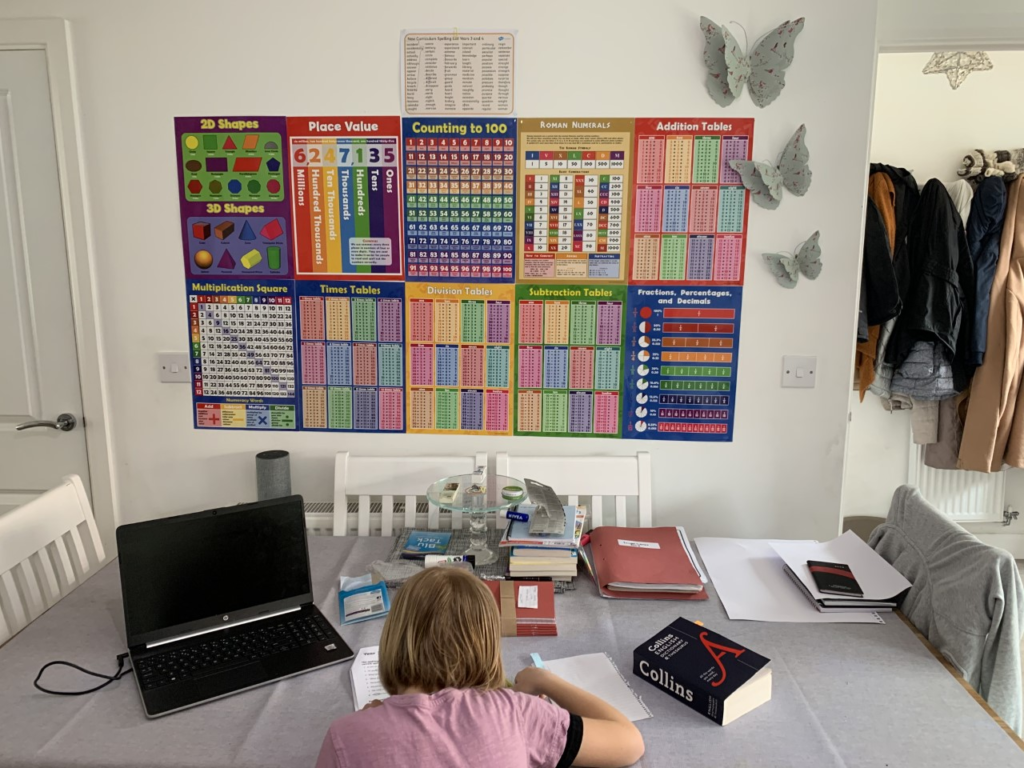 I've been completing Dictionary work and then maths. I then go on the laptop for Purple Mash or SPAG. After that we go for a walk with my dog Arthur. We are lucky where we live as there are lots of fields to walk in.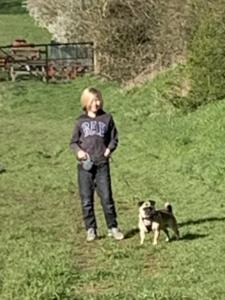 Today I did Just Dance with my sisters and that was fun. I miss school and my friends. I have been going on you Houseparty with family, Ethan and his mum. So far we are doing OK.
Take care
Imi
Blog by Mrs Wilson (Teaching Assistant and School Governor)
Hi Everybody.
Hope that you are all well and keeping safe.
We have kept ourselves busy. I have been working in the morning and then making cake, bread pudding etc. for my parents, exercising as much as I can and getting all those jobs done that most of the time I ignore.
Emily puts me through my back exercises daily and we are walking everyday – lucky for us there is so much open countryside around and everybody is being sensible and keeping their distance but at the same time being polite with good mornings/afternoon etc.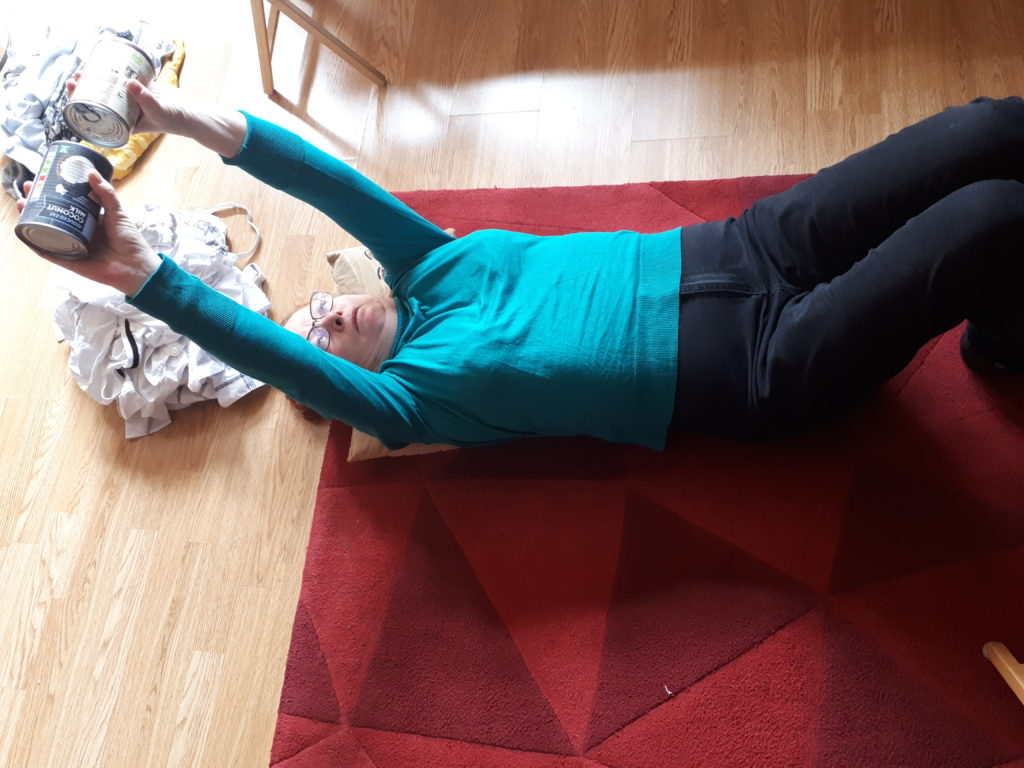 As you all know I like to sing as does Emily, she spent an afternoon singing in the garden with her guitar, the neighbours are hoping it will be a regular thing.
At present she is making keto friendly cinnamon rolls.
Anyway as you can see how lucky we are to have the surrounding environment, and how lucky I am to have Emily putting me through my paces or maybe not!!!
Keep safe, miss you all
Love Mrs Wilson
DAY SIX 30/03/20
Blog by Olive (Year 5 pupil)
Hi everyone!
We've been learning at Pear Tree School today (that's what we have named our home school). It's fun, but not as fun as real school!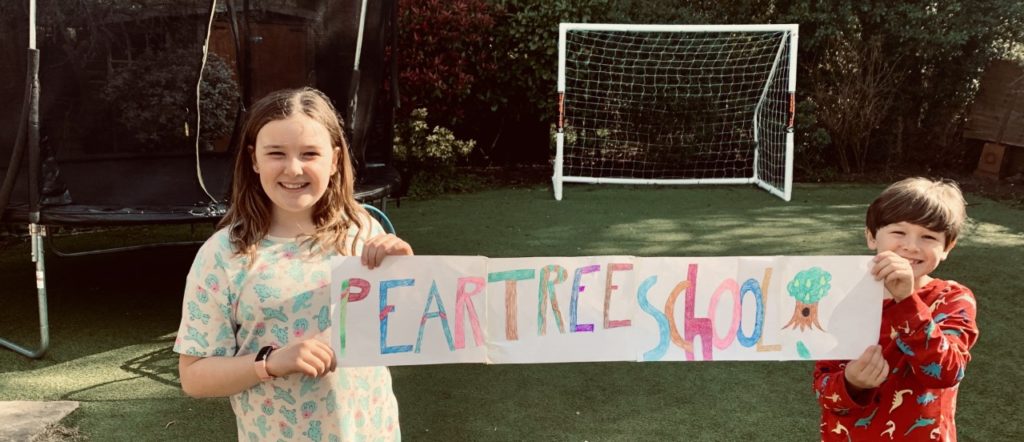 Today we started our morning by reading for 20 minutes. I'm reading 'Women In Science', it's about lots of women that did amazing things in history.
Next we did the Joe Wicks daily hiit work out, that was fun! Mum did it with us today, we did it in the garden, it was very cold but we soon warmed up.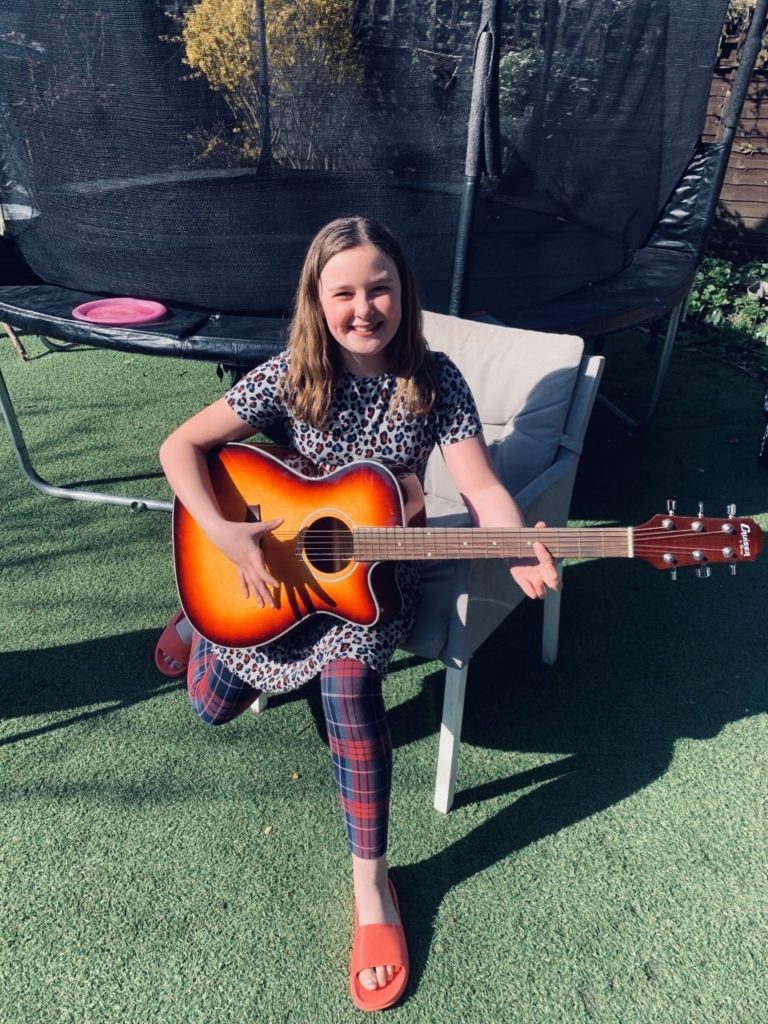 After that we did some fun maths with my dad, we threw the darts at the dart board and we had to add up our scores.
In PE we did tennis, we've got a tennis court opposite our house and we like to go there to do our PE lessons or we go for quiet walks in the forest.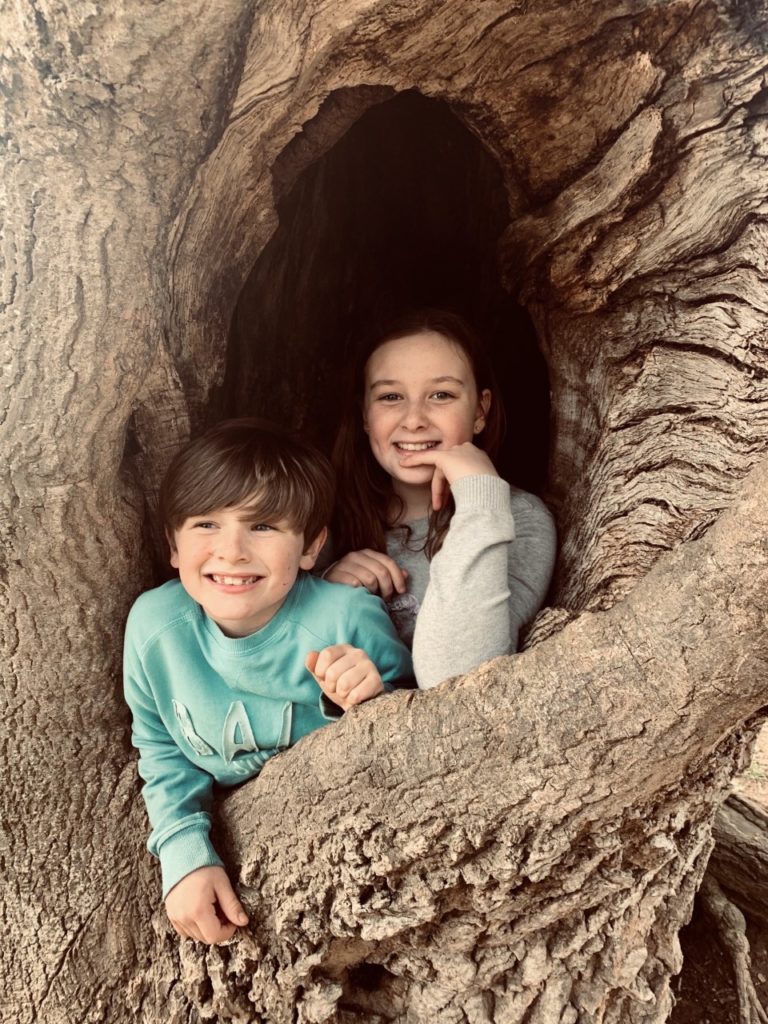 Tomorrow we're having a cooking lesson and we are going to make flapjacks.
I hope everybody is well, happy and keeps smiling!
By Olive : )
Blog by Alun Broadwood-White (Parent and Chair of Governors)
First and foremost, I hope that all of our 'school family' are keeping safe and well.
Well we have survived the first week and truly started the second week of lockdown without casualties, I am hoping that Mr Shillito sees fit to award me his 'Headteacher Award' for this one!… I'm really just after a free ice cream and a badge!
As of yet we haven't managed a workout with Joe Wicks and fear that we never will, but have done a daily two mile walk with the dogs. Riley is not happy with any form of exercise and after a couple of hundred yards we have to have a break and snack on the park bench but luckily there is only one bench during the walk!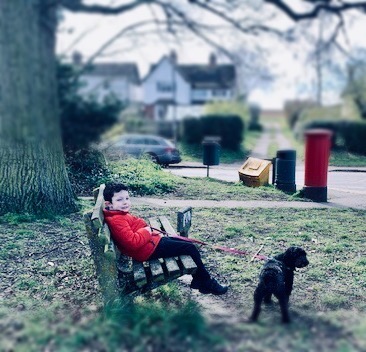 Riley and his siblings have fully embraced homeschooling but are persistently whining that they live with two teachers whom insist on them doing schoolwork and maintaining the school night regime! However, with Riley being Riley he has made me put up a daily schedule of the day's lessons and activities. Schoolwork has at times certainly been a challenge especially with the two eldest (13 & 15) asking questions that confused me as I've not done anything at GCSE level for 36 years! The two older ones are often looking at me as if I'm some kind of uneducated street urchin and with serious disappointment in their eyes!
As a family we always discuss and arrange the weekly menu but the discussion is no longer where it ends! The older two seem always to baking whilst Riley and I just sit and enjoy the offering. However, we've discovered that there is no such thing as too much cake! But guess who is the one that has to clean up the mess after all the 'Food Tech' activities?
After seven years of being a full time homemaker it has been too easy for me to forget how much work it is for the teachers and support staff with all the planning and execution of every lesson and every activity that they have to do on a daily basis. This horrid virus situation has made me appreciate even more than usual the amount of work that is being done by our wonderful staff at Stapleford, not just today but every day! The work that's set it's certainly helping to give us structure and routine and as a family is helping us to manage our time more efficiently. So a huge thank you to all our staff for being so dedicated to the education of our children and wonderful school. As Mr Shillito knows, I've always kept an open mind about going back to school when Riley is older but I've now realised with all this schoolwork that I'm far too old, unorganised and tired to ever consider being back in a classroom!
Wishing you all a happy and peaceful Easter, and please step away from the Easter Eggs!
Alun
DAY FIVE 27/03/20
Dear Parents and Carers
I hope that you are all well and that you are enjoying spending time with your children.
With the school being closed and children being asked to complete much of their work through online resources I thought it was important to remind everyone of the importance of staying safe online. The links below provide information for both children and their parents regarding how to do this.
Online gaming:
At a time when our children cannot meet up I can really see the value in them being able to chat online with their friends in a controlled experience. However, it remains important that we help them all to learn what is appropriate within this medium so that everyone enjoys the experience.

From a parenting point of view I believe it is essential that we are aware of who our children are playing games with online and the types of conversations that they are having. My own children know that if I hear any derogatory comments or swearing whilst they are playing online that they will be told to block whoever is at fault just as I would expect them to be blocked if they were guilty of the same. This is obviously a last resort because we may be locked down for several weeks and our children will need that contact with their friends to maintain their emotional well-being. As a school we cannot be there as these conversations are happening so please can I ask that all parents and carers monitor the interactions that their children are having online in order to keep everyone safe. A simple message for all of our children to remember is that "if you wouldn't say words or phrases to somebody in person then it is not OK to say those words to them in an internet based game or phone call" – It really comes down to "Treat each other as you would like to be treated."
Emotional well-being:
It is essential that at this time we support our children's emotional well-being more than ever. You may find the links below and attachments useful in supporting children with any anxiety they may have.
https://www.gov.uk/government/publications/covid-19-guidance-on-supporting-children-and-young-peoples-mental-health-and-wellbeing/guidance-for-parents-and-carers-on-supporting-children-and-young-peoples-mental-health-and-wellbeing-during-the-coronavirus-covid-19-outbreak

https://childmind.org/article/talking-to-kids-about-the-coronavirus/
https://www.bbc.co.uk/newsround/51342366
https://krisepsykologi.no/what-can-we-say-to-children-about-coronavirus/https://youngminds.org.uk/blog/what-to-do-if-you-re-anxious-about-coronavirus/
I hope you feel that they are of some use to you.
Take care
Mr Shillito (Headteacher)
For those of you who like a bit of structure in your lives; here's what various celebrities are offering you and your kids for free daily to help with their education while schools are closed:
9.00am – PE with Joe Wicks https://youtu.be/6v-a_dpwhro
10.00am – Maths with Carol Vorderman www.themathsfactor.com
11.00am – English with David Walliams https://www.worldofdavidwalliams.com/elevenses/
12.00pm – Lunch (cooking with Jamie Oliver) https://www.jamieoliver.com/features/category/get-kids-cooking/
1.00pm – Music with Myleene Klass https://www.youtube.com/channel/UCQh2wgJ5tOrixYBn6jFXsXQ
1.30pm – Dance with Darcey Bussel https://twitter.com/diversedancemix/status/1241098264373592065
2.00pm – History with Dan Snow (free for 30-days) https://tv.historyhit.com/signup/package
4.00pm – Home Economics with Theo Michaels (Mon/Wed/Fri) https://www.instagram.com/theocooks
Full list: https://skintdad.co.uk/free-online-classes-for-kids/
Non-daily events include:
Science with Professor Brian Cox, Robin Ince & Guests https://cosmicshambles.com/stayathome/upcoming-schedule
9.30am Wednesday 25 March – Geography with Steve Backshall https://twitter.com/SteveBackshall/status/1242058846941712385
For your older kids, here are 50 free revision resources for 11+, GCSEs and A-Levels:
http://www.eparenting.co.uk/education/50_free_revision_resources_for_gcse_a_level_11_plus_and_sats.php
Guidance for parents and carers on supporting children and young people's mental health and wellbeing during the coronavirus (COVID-19) outbreak
BLOG by Lily Weaver (Year 6 Pupil)
Good Morning,
Mum and I have been at home for 15 days now because of my cough (which is almost better). I have some ideas for if anyone is bored at home. I've done a lot of reading, sewing, drawing and maths. I wrote a blog on purple mash today and yesterday I made a bug hotel and a mythical animal shelter. I found a packet of sunflower seeds and am going to plant them today to see how tall they can grow. They are called 'Russian Giant' so I think they are going to be huge!🌻
I miss school a lot and I hope you are all ok
From Lily
Blog by Miss Young (Class 4 Teacher)
Hi everyone!
I hope you are safe and well. This blog has given me an idea for children in Class 4. It would great if you could keep a diary of things you are doing at home whilst school is closed. We can then share these with each other when we are able to return to school.
It is very strange to be working from home, with the distraction of the TV and cupboards full of chocolate! I am making productive use of my time and trying to keep myself busy. I must have the cleanest home in Hertfordshire with the amount of housework I have been doing.
I have also been working hard. Mr Shillito has been keeping us busy with plenty of work. That's right, teachers have homework too. I have enjoyed looking through all of Class 4's Learning Journals as I updated them. It has been great to reflect on the progress you have all made so far this year and I'm sure you will continue to do so.
I hope you are keeping busy at home, working your way through your home learning activities. Remember it is important to read everyday so please try your best to make sure you are doing this. Also, it's important to stay active and it's been great to hear how many of you have been using Joe Wicks PE session. I must confess I have not had a go at this myself, but it sounds super.
These may be difficult times but it's important to stay positive. Make the most of having this time at home, spending time with your families and making memories (it's not all about the work).
Stay safe and I hope to see you all back at school soon.
Miss Young
DAY FOUR 26/03/20
Fancy a sing song?
Young voices have set up a – Young Voices at Home Channel on You Tube or Facebook. I think they are looking at Andy ( Urban Strides ) also being involved – the children that attend choir love him!
YV At Home – Tom Billington Monday 30th March 10am Facebook Live
The fabulous Tom Billington is our special guest on Monday and will do some fun vocal warm ups and get you involved singing his special song written especially for YV in 2016 – Hyper
Poem sent in by Reverend Jenny
Thought for the day – a poem called Pandemic by Lynn Ungar.
What if you thought of it as the Jews consider the Sabbath – that most sacred of times?
Cease from travel.
Cease from buying and selling.
Give up, just for now, on trying to make the world different than it is.
Sing. Pray.
Touch only those to whom you commit your life.
Centre down
And when your body has become still,
Reach out with your heart.
Know that we are connected in ways that are terrifying and beautiful.
(You could hardly deny it now).
Know that our lives are in one another's hands.
(Surely, that has become clear).
Do not reach out your hands.
Reach out your heart.
Reach out your words.
Reach out all the tendrils of compassion that move, invisibly, where we cannot touch.
Promise this world your love…..
For better for worse,
In sickness and in health,
As long as we all shall live.
Blog from Lisa Newman (Parent)
Dear All,
I hope you are all ok?
In order to facilitate using Google's augmented reality animal thing, I set Edie and Fraser fact finding about pandas, sharks and various other animals. We discussed what they found out and talked about the size of the animals.
Then we met them! Photos to follow.

Lisa Newman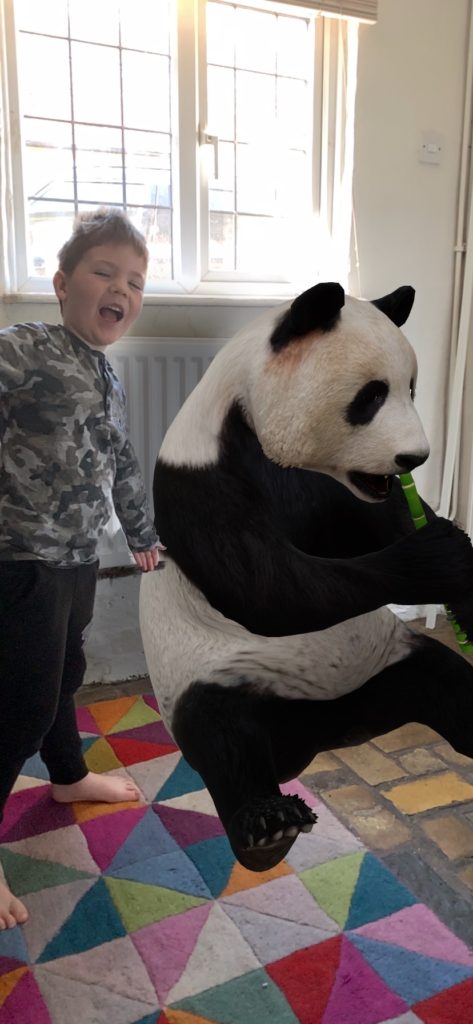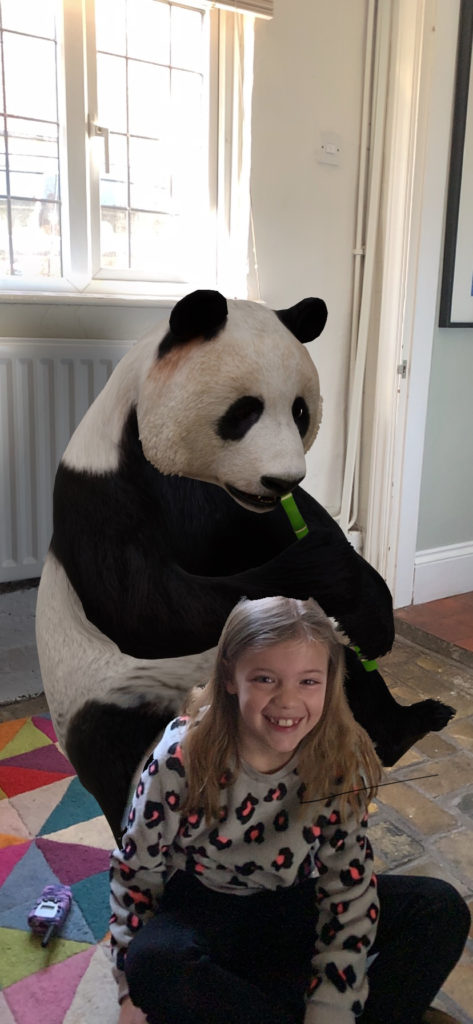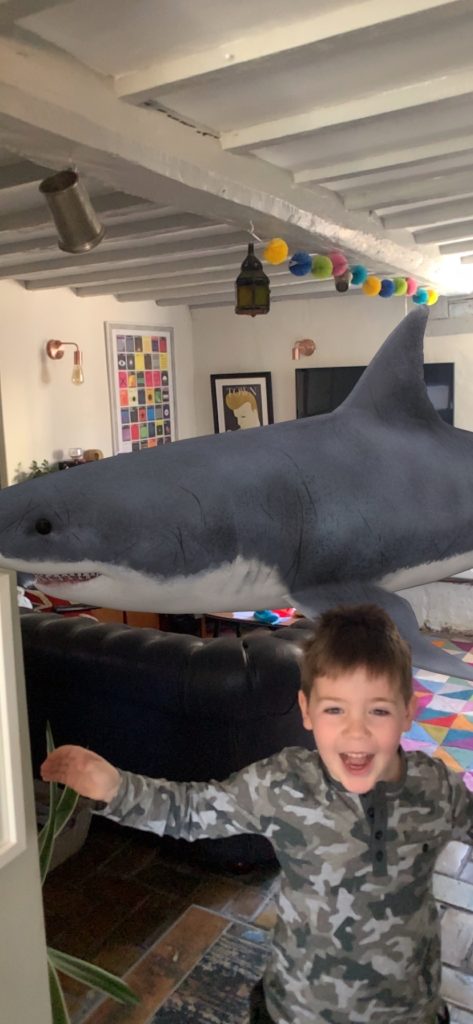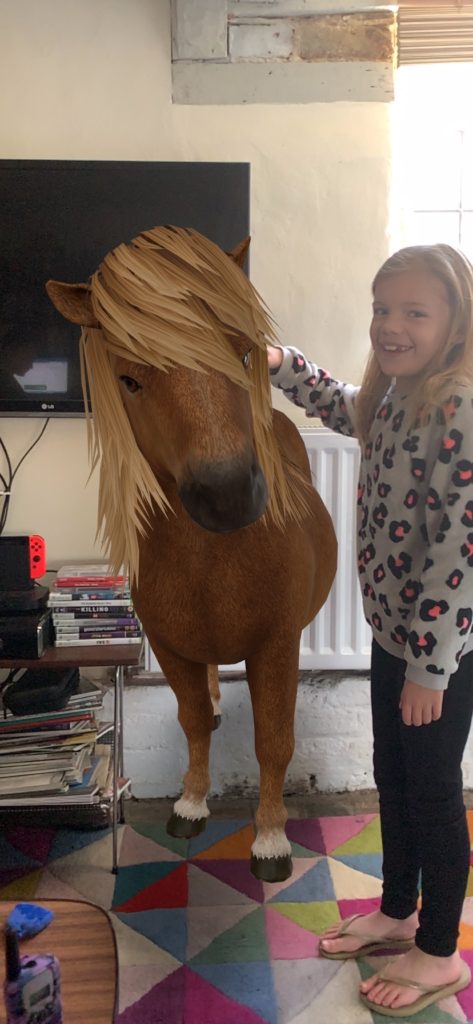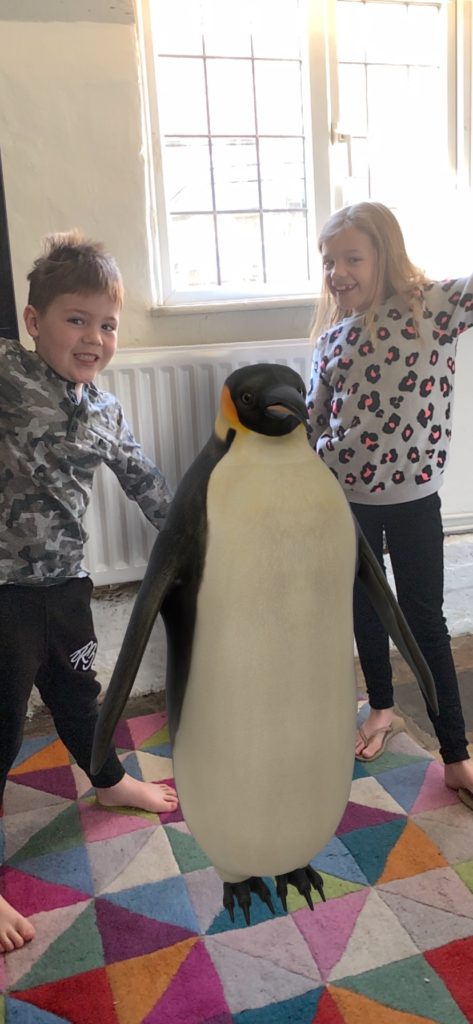 Blog from Noah Morgan (Pupil)
Hello Everyone!
Noah here : )
Hope you guys are alright and keeping safe. I know this self-isolation stuff can be boring but we can all get through this together. Hopefully everyone has at least a couple of things to do.
I know some of you are a bit bored but I will share some things that I am doing to hopefully get you guys through the day without being bored, (will it work? I have no clue) but these are some recommendations that you might like. (If you are year six this will mainly suit you).
I only start work at 9am so if your parents let you do that too, you can kick back and relax watch TV or youtube – do what you want. But at nine I have to do some daily exercise: anyone can do it young or old. You may have heard of a guy called Joe Wicks – well he livestreams on youtube and does what he calls 'PE with Joe' every week day. He will be doing this until schools re-open. It is a simple half an hour workout.
Then I do half an hour of reading, you guys might not do it for so long but it is a good way to calm yourself down after the exercise. Afterwards I do an activity on purple mash until quarter-to 11. Followed by some maths until my ten minute break time at 20 past 11.
After that, I go on SPAG.com, a website that does different spag tests for your teacher to set for you (if you are lower down in the school only go on if you have a password and username).
Then (only do this if you are year six or two), I do a sats paper of my choice: you don't have to do all of it at once, just do ten or fifteen questions a day. And then I have the day to myself I can sit back and relax.
That's it for now but if you have time, go for a run or jump on a trampoline (if you have one) but just get outside whilst the weather is nice.
That is all from me but, stay calm, stay positive, stay active and stay inside healthy.
Bye.
Noah Morgan
Blog from Kelly Fordham (Parent)
After being inside for a few days we took a walk over the woods. Making sure if we saw anyone else to keep the recommended distance! Logan found an old tree with a hole in the middle, a fairy door and a mass of coloured rocks. We also saw the start of the bluebells arrival, spring is truly on its way which is a lovely sight and a reminder that new beginnings are just around the corner.
Kelly
Picture from Vivien Marshall (School Governor)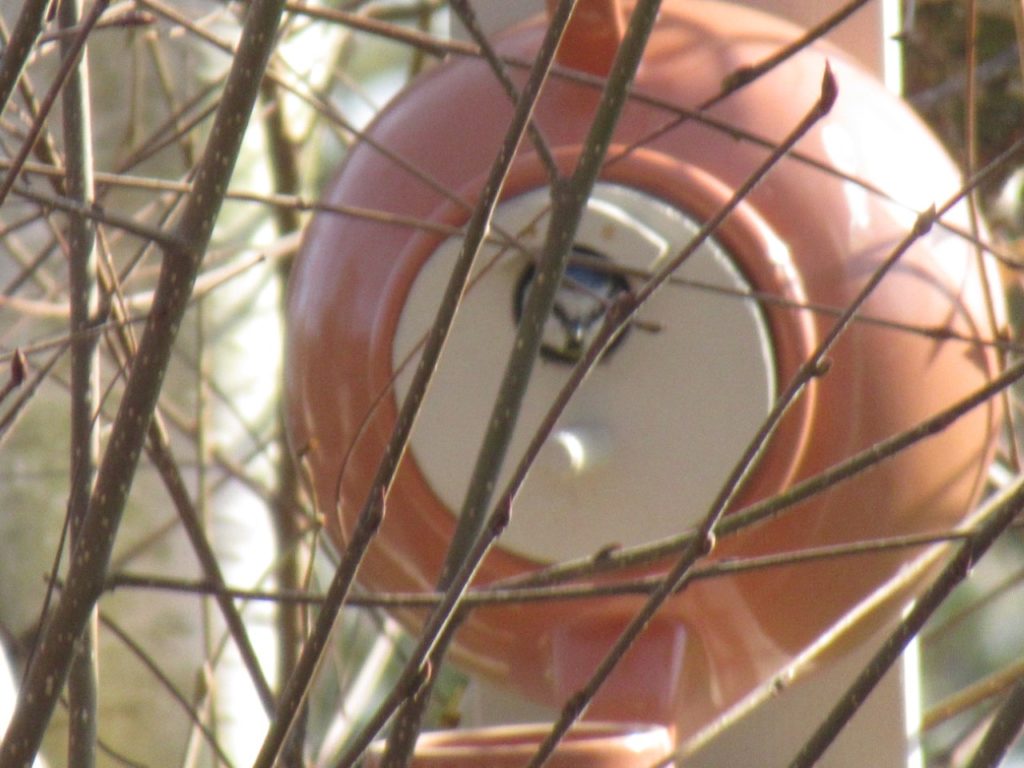 Blog by Mrs B Phillips (Class 3 teacher)
Still seems very strange to be getting ready for school. My morning routine is feeling stress free so far. This week I'm not having to constantly call up to my teenage daughter each morning to see whether she is ready or not to leave for school. She always seems to be sat at her dressing table applying her bronzer and fixing her ever so beautiful lashes for school each morning. After all these years she is still yet to realise that I've got to get myself to work after dropping her off at school. But hey! "It's only work mum" so she keeps on reminding me. My daily commute each morning is great too! Hardly any cars on the road which means I arrive even earlier.
Class 3, I will continue to upload work onto Purple mash and SPAG.com for you to complete. Don't forget to complete your daily exercise with ''P.E with Joe" | Daily LIVE workouts for kids | The Body Coach.
Stay safe and healthy.
See you all soon
Mrs B Phillips (Class 3 teacher)
DAY THREE 25/04/20
Grace and Edward have been busy creating rainbows today at school with Mrs Hobbs. Such a lovely photo.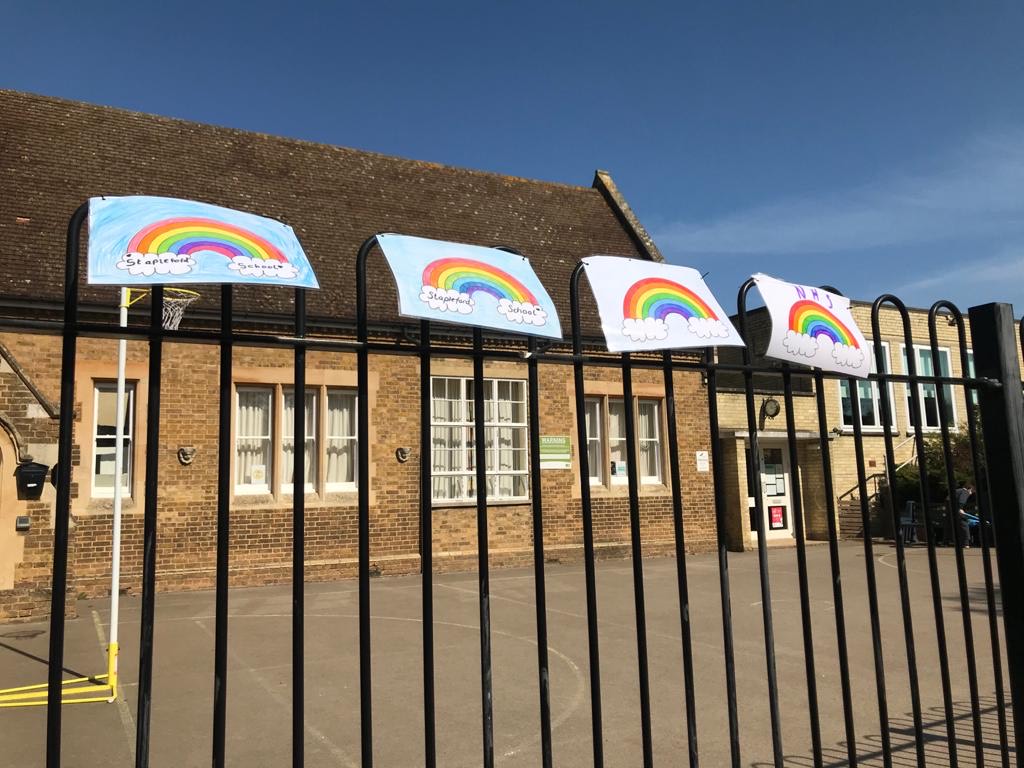 Blog by Mrs Morgan (Class 1 Teacher)
Hello Everyone!
We hope you are all keeping safe and well. The weather is beautiful today so that has kept us all smiling : )
We started our day by completing Joe Wicks' morning work out. I must say we really enjoyed this and we had already improved since our Monday morning session!
Even though some of you are not physically in school, we can see that you are all enjoying the online activities on Purple Mash. This is a great resource and it means your teachers can feedback directly to you. Feel free to write us a little message too. Reading your comments certainly made Mrs Morgan smile today.
Keep going with SPAG.com too. This is another great resources where you can challenge your understanding and test yourself.
Taking advantage of the sunshine we had our lunch outside and made the most of the weather. If you can get out into your garden – do – this made us feel really energised and it was like having our very own picnic.
Has anyone seen the 30 day Lego challenge? If not – have a look. It gives you a challenge you can do each day. I started this yesterday and made my initials out of Lego. Take some pictures and email them to us – I would love to see your designs. Any up for a Stapleford 'Lego Masters' style competition?
We do miss you all so keep in touch and keep going with the brilliant online and at-home learning!
Thinking of you all and sending out 'air hugs' to you all!
Stay safe.
Mrs Morgan (Class 1 Teacher)
Blog by Andy Ling (Parent)
Here you go James, some pics and an insight in to how us working parents are coping… (I've made it look and sound much easier than it is!)
Firstly, the kids are being amazing. You'd be proud. We have a scheduled timetable starting with PE with Joe at 9am, then set 30min lessons throughout the day with set breaks and an hour for lunch. We also try end the day at 4pm with an outdoor activity (in garden or walk/cycle miles from anyone in the woods we're lucky enough to live directly next to).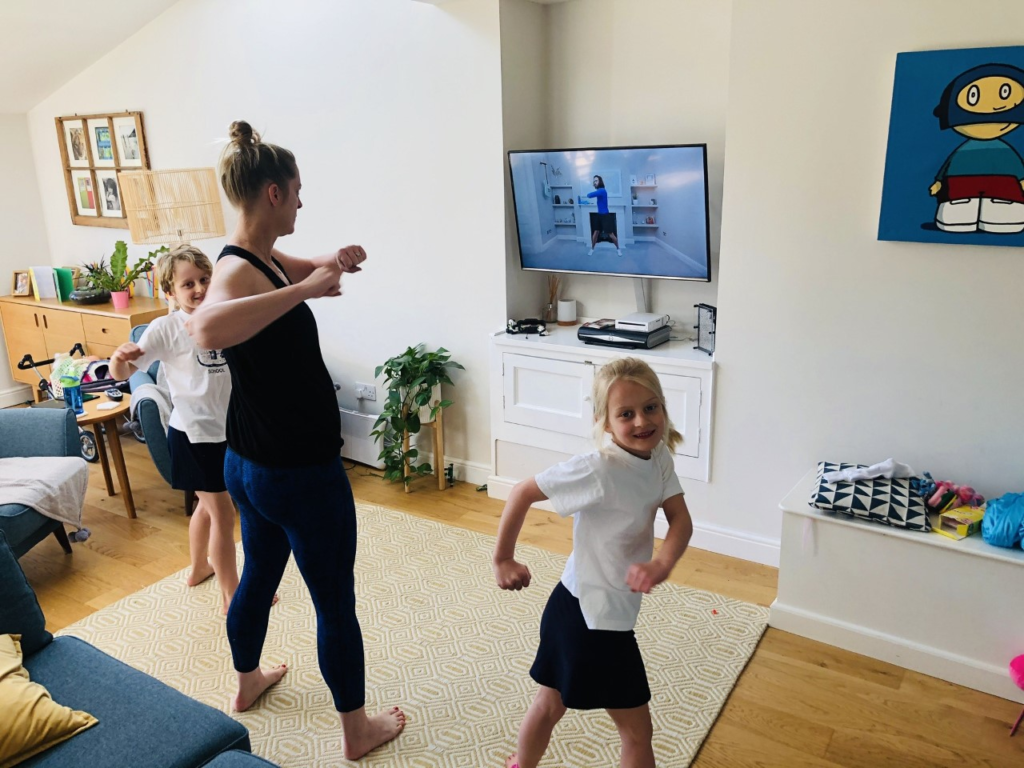 Spag and purplemash are proving a god send providing Emma and I a bit more time to get some work done. The kids are doing so much reading too – see this hoard that arrived from The Book People today…Highly recommend – and so remarkably cheap.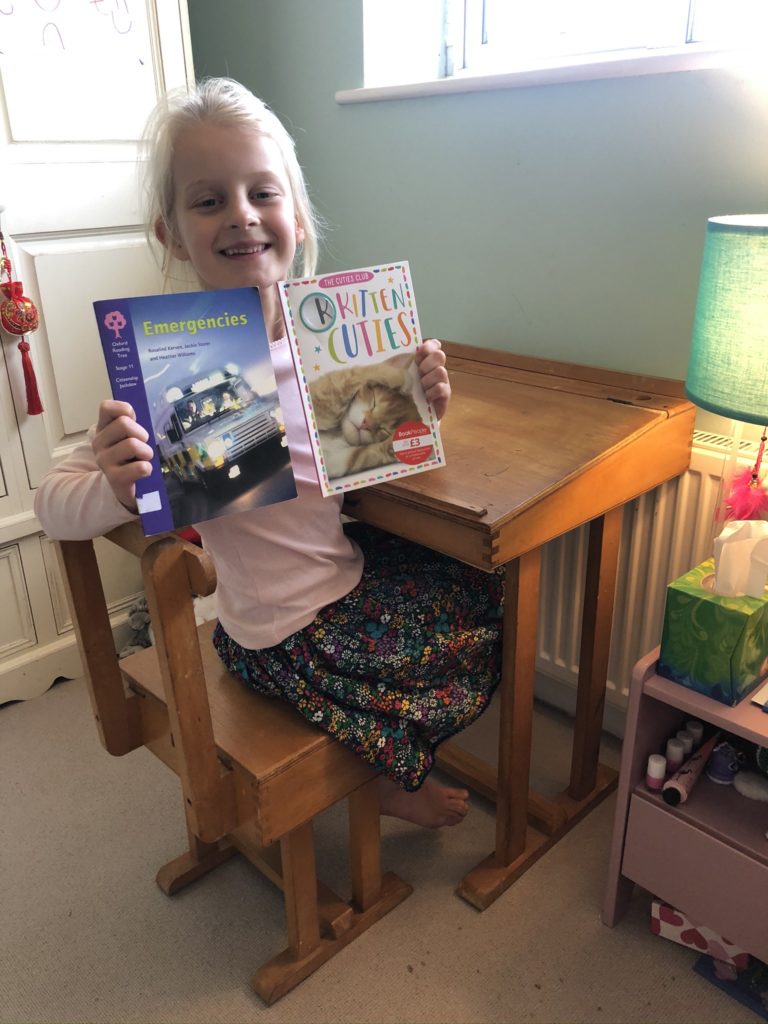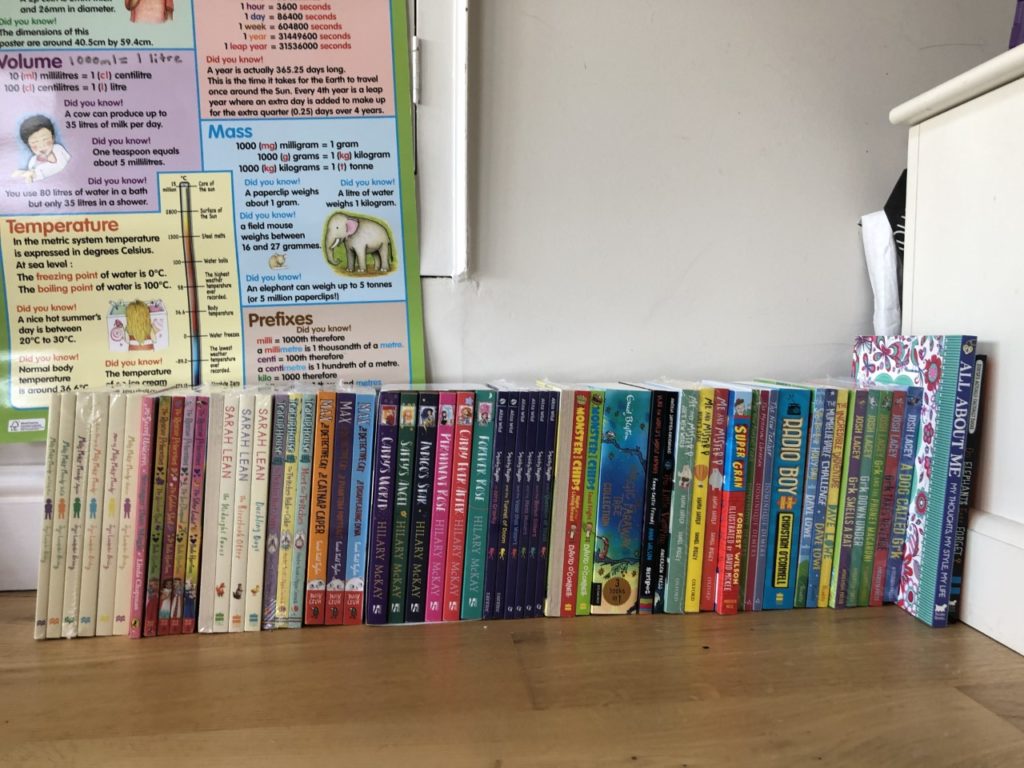 We're both seriously busy working parents, and I'm a business owner too with 24 staff (including 5 call centre agents most of whom are in their bedrooms at their parents house and have no experience of remote working) so it's not an easy time, but a disciplined routine for the kids and a flexible approach to work (I.e.late nights still on email after kids are down!) is the current recipe to getting through this.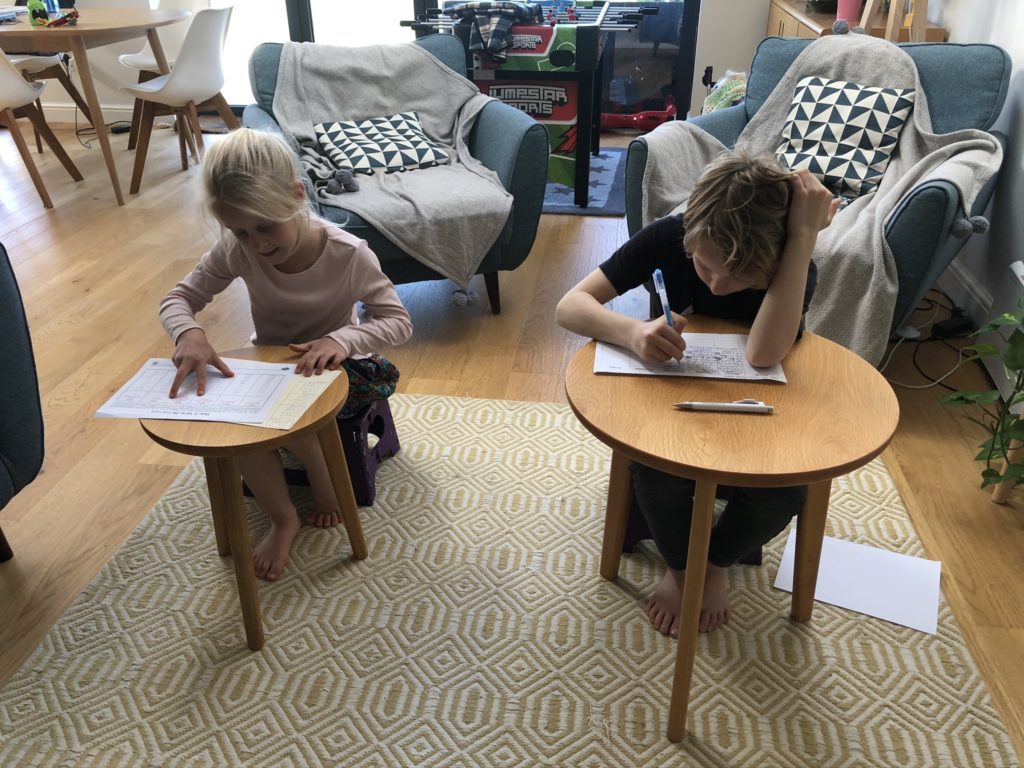 All sounds textbook but no doubt it'll all go out the window at some point – along with our sanity!
Stay safe
Andy Ling (Parent)
Photos of PE in the garden with Tristan and Andree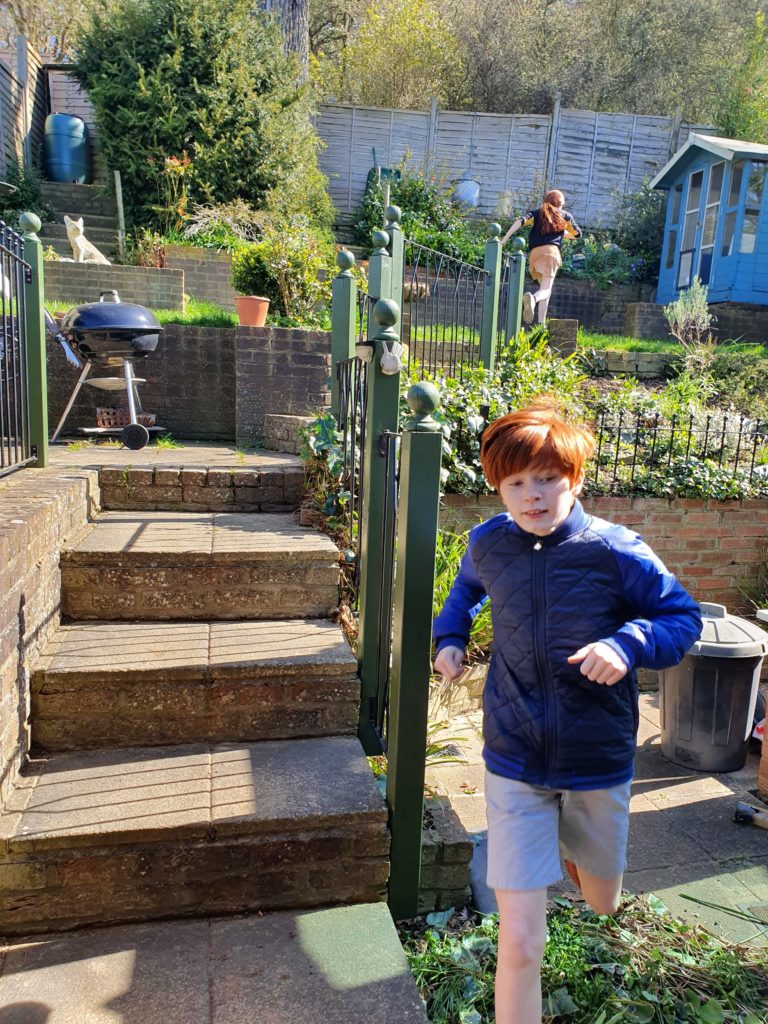 Today we have done another garden challenge (making the most of the sun)
X10 laps of our 3 level garden with lots of stairs! Tristan got to 10 and Andree managed 7!
Eye of the tiger music in background he he!
Mrs Melville (Parent)
From Alan Smith Bishop of St Albans
The Bishop's Coronavirus Golden Rules
Not official advice but this is food-for-thought about our attitudes.
Golden Rule One. Each one of us can think about how we can protect and support our neighbours. So much of the public rhetoric is sowing fear about the danger of other people. So, taking all the official precautions, offer help and reassurance to others – and don't demonise anyone or any group.
Golden Rule Two: Think about who may be suffering more than me. For those of us who are healthy there is much less to worry about but the elderly, the housebound and those with chronic health conditions may be very anxious. How about each church undertaking an audit of all the vulnerable people they know and sharing out the responsibility to phone them each day. There's nothing like a friendly voice to offer solace when someone is worried. A smile can bring cheer, even on the phone. If you visit, follow all the official precautions or don't go.
Golder Rule Three. Don't give into panic and start hoarding food. There is plenty to go around, so practise the Christian discipline of sharing. Ask your neighbours what they need and do you best to help them get it. If you are self-isolating you will of course need some supplies.
Golden Rule Four. Live today to the full. None of us ever know what the future holds. In the Sermon on the Mount (Matthew 6. 25 – 34), Jesus challenged his followers to live each day fully and not be afraid. Every time we are tempted to give in to fear we need to make a conscious choice to respond in trust and openness.
And, along with just over half the adults in the UK, don't forget to pray. Here's a suggestion from the Revd Louise Collins, a Team Vicar in Borehamwood, Herts:
Dear God our Shield and our Defender, guide and protect my neighbour in this time of health emergency; deliver them from all harm and may your love and care ever grow in this place. Through Jesus Christ, Our Lord, Amen.
+Alan St Albans
DAY TWO – 24/03/20
Blog by Mrs Melville (Parent)
Morning! We think the blog is a great idea!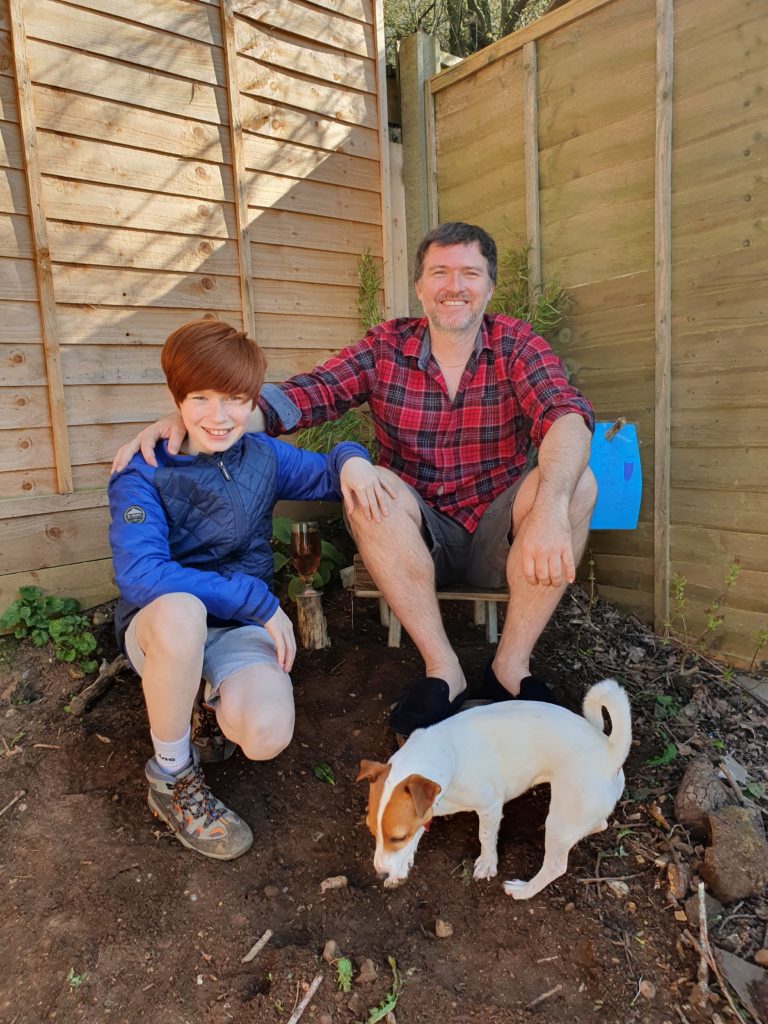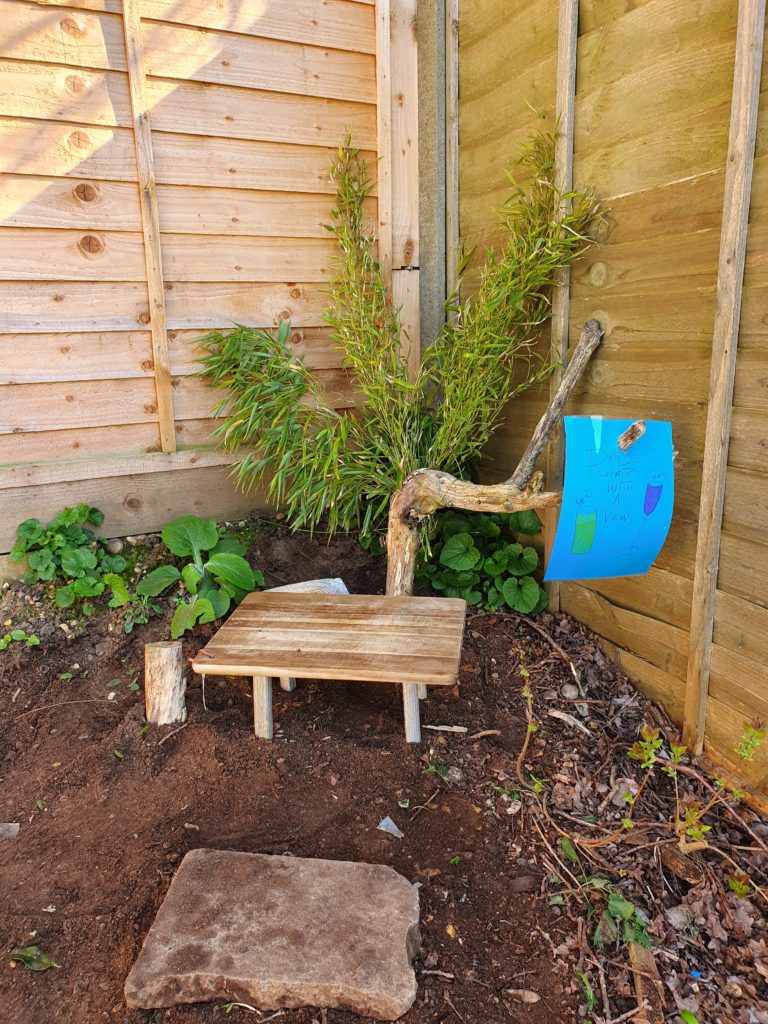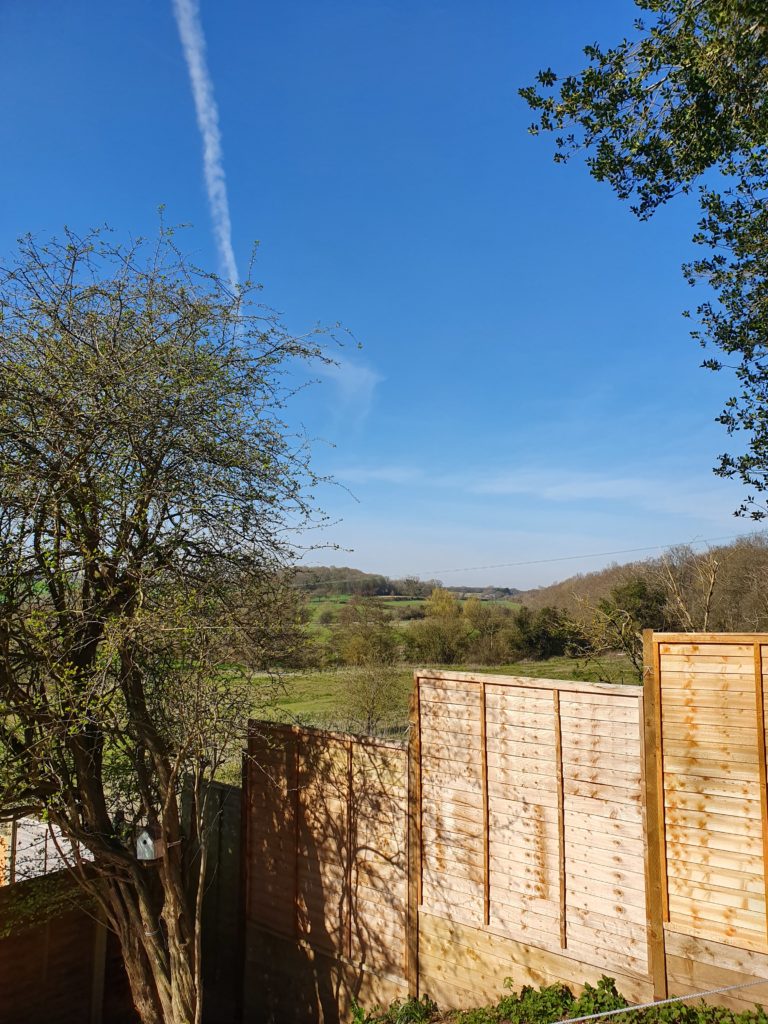 Tristan spent yesterday afternoon in the garden making dad a beer/wine chair with a view over the heath! This was a maths task on how to build something when working with sloped land! So he had to use calculation, design, build and imagination techniques! Stay safe!
Kind regards
Helen Melville
Blog by Mrs Mali (Class 2 Teacher)
Hello everyone!
I hope everyone is safe, well and healthy!
I am at home, fine and well. I have really enjoyed reading your work that you are submitting on purple mash and well done to those children that have started their work on SPAG.com.
Remember to keep checking purple mash! I am regularly checking for work that has been submitted and sending you comments and feedback to you. Remember even though we are learning from home, lets still remember to always do our best with our learning. I am so proud of how hard you all are working and self-motivated you are! Keep it up.
A little bit about what else I have been doing at home:
Day one began with checking your work, sending feedback to you on purple mash. I also did a little bit of other school work and then began some learning time with Yuvraj! We also had a go at the Joe Wicks PE session! Now you all know PE is not my favourite subject, but it is so important to stay active. Send me a quick message on purple mash if you had a chance to do this too. Let's see if we can try do some PE activity every day!
Some more ideas for learning at home (some of these are specific to Class 2):
Reading:
Writing
Purple Mash 2do – grammar. https://www.purplemash.com/#todos
It would be lovely, if you could keep a diary of what you do whilst off school. (maybe do this in your blue notebook)
www.spellingframe.co.uk Spellings– set yourself a challenge to learn the spellings of the year 3 and 4 spelling words. Ask your adult to test to figure out which words you know and which ones you need some work on!
Maths
Creative project
As we never got a chance to make our Viking long boats, it's time to get creative. Use materials around your house (cereal boxes, lego, plastic cartons) to make your Viking long boat. Take a picture and (if possible) print this and stick this in your blue notebook.
Class 2 Blog:
I have created a class 2 blog in purple mash. I am hopeful that this will work and we can send messages to each other via this. Please can you try to send me a message. To find it follow these instructions:
Enter 2blog in the search button
Click on the icon
Go to Class blog
Here you will see a message from me.
Send me or any one of your friends a message and I will then approve the message, so everyone can access it.
(only children from class 2 are able to view messages)
DAY ONE – 23/03/20
Blog by Mr Shillito (Headteacher)
Morning everyone. So I never thought I would be writing this….a daily blog because the school is closed! We really are in a period of history that is extremely different to anything that we have ever experienced before. This is something that future generations may well be learning about in their history curriculum!

But why a blog? Well, I just thought that if we had a space where we can all contribute content it may help us all to maintain the wonderful sense of community that I know exists in our small part of the world. So how will it work? I will aim to post a blog on online every day for the length of time that the school is closed. Not all of the blogs will be written by me. I have asked all of the staff to contribute too and in time I am hoping that pupils and their families will email admin@stapleford.herts.sch.uk with blogs of what they have been up to. If you send photos for the blog it would be great so I will take it that if you email me your pics you are happy for me to post them online. You can find the blog on the school website https://stapleford.herts.sch.uk/coronavirus-blog/

Yesterday was the first day of the school closure and we were looking after four key worker children. The school had a strange feel about the place. Almost like an INSET day at the start of the autumn term but without as much chocolate and cake. Routines are, I believe, key for maintaining our sanity as we enter a period of lockdown for most of us. With that in mind the school day kept to the normal times. At 9:00am the staff on the rota to be at school all joined the children in the school hall to do "PE with Joe Wicks." I have heard that some of you also joined in at home. If Barney and Molly want to send me the picture of themselves in their PE kits I will share it with you all. Unfortunately I wasn't wearing my PE kit and brogues aren't great for High Intensity Interval Training so I achieved a "must try harder" grade. I will be better prepared today and will be joining in with my boys at home. If you would like to join in with the live PE lesson today you can find it on https://www.youtube.com/channel/UCAxW1XT0iEJo0TYlRfn6rYQ . After that the children completed the same work that has been planned by your teachers for you all at home. They took advantage of the sunshine and had a picnic lunch on the field and before you knew it was time for them to go home. The staff were brilliant. Classrooms were turned upside down and cleaned top to bottom in preparation for the time when we can return to school. I eventually returned home to find that my boys had actually completed the tasks they had been set by their teachers – let's see how long that lasts. This had allowed my wife to work uninterrupted for quite some time but I fully appreciate how hard this is going to be. Apparently Arthur had decided to make a smoothie with the Nutribullet blender whilst my wife was in the middle of a conference call. Later they decided to get creative and completed Lego sets and made cookies. With that in mind I am up early this morning in the hope that I can get part of my working from home day completed before they become too demanding. I suppose if they become too much of a distraction I can always zip them in the trampoline so they can run off some steam, much like a hamster in a wheel.

Take care and look after each other.

Written by James Shillito, Headteacher